Gone Home – Spillanalyse i engelskfaget
June 7, 1995. 1:15 AM.

You arrive home after a year abroad. You expect your family to greet you, but the house is empty. Something's not right. Where is everyone? And what's happened here?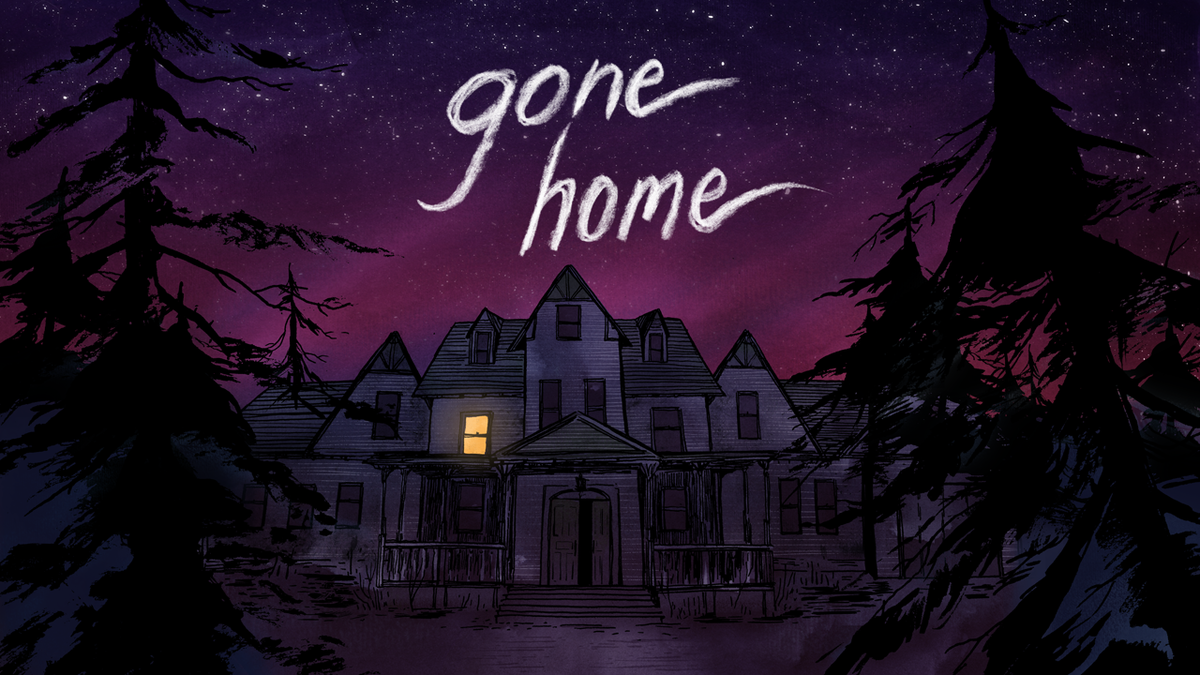 Gone Home i et nøtteskall:
Spilletid: 4 timer (Minst 60 minutter aktiv spilltid bør gjøres i klasserommet)
Anbefalt antall skoletimer: 5-15
Trinn/fag: 9. kl-VG3 engelsk
Vanskelighetsgrad (Spillmekanisk): Enkelt
Innledning

De siste dagene har jeg fått enormt mange spørsmål om jeg ikke kan dele opplegget jeg gjennomførte med spillet Gone Home i engelsk VG1. Jeg hadde tenkt å renskrive og samle notatene og oppslagene mine til en velpolert tekst i løpet av de neste par ukene, men nå publiserer jeg heller nå litt hyrten om styrten, så får vi se om jeg ikke gjør noen revisjoner litt senere.
Dette opplegget ble utviklet i samarbeid med min meget habile Canadiske kollega Paul Darvasi. Mens denne posten er ment å være en praktisk guide for å komme i gang, anbefaler jeg også at dere tar en tur innom LudicLearning.org for å lese om bakgrunnen for opplegget og evaluering av en tidligere gjennomføring av en variant av dette.
I Gone Home, spiller du rollen som en 19 år gammel jente som nettopp har returnert sitt barndomshjem etter et år i utlandet. Hun hadde forventet å bli møtt av sine foreldre og søstre, men huset står tomt. Din oppgave er å finne ut av hva som har skjedd med familien din, og samtidig nøste opp i gamle familiehemmeligheter. Jeg vil ikke avsløre så veldig mye av handlingen, da lærere som vurderer å bruke dette spillet i skolen bør prøve å oppleve den oppdagelsen som også elevene skal gjennom.
Jeg har brukt spillet til stor grad på samme måte som jeg ville brukt en novelle. Elever spiller alene eller i par og må gjennoføre oppgaver og diskusjoner om historien, karakterene, setting og stemning. Når spillet var ferdigspilt har elevene skrevet anmeldelser og presentert analyser av ulike aspekter av spillet. I opplegget klassen min var gjennom i høst hadde jeg også med en tilleggskomponent hvor mine elever samarbeidet og diskuterte oppgaver med en Canadisk klasse. Spillprosjekter egner seg godt for internasjonalt samarbeid, men hvordan vi gikk fram for å få til et velfungerende synkront og asynkront samarbeid blir tema for en senere post.
Praktisk
Gone Home kan kjøpes hos de fleste online spillutsalg til mellom 20-25$/stk om du vil kjøpe det som privatperson. Beste framgangsmåte for å få tak i spillet til skolen er å ta kontakt med utgiver Steve Gaynor (Steve@fullbright.com). Til skolebruk selger han spillet til 5$ /stk. Det som også er behagelig med å kjøpe spillet direkte fra utgiver er at logistikken med innstallasjon blir betydelig enklere. Du vil få en rekke koder som du kan distribuere til elevene, så kan de selv innstallere på sine PCer.
Opplegget
Vi gjennomførte et temmelig omfattende opplegg knyttet til dette spillet. Det er etter mitt syn ikke nødvendig å gjøre dette så stort for at spillet skal være verdifullt å bruke – plukk, miks og gjør om på aktiviteter etter egne behov og ønsker. Jeg er oppmerksom på at mange av dere som jeg håper vil bruke dette opplegget har meget begrenset erfaring med spill kan synes det er litt skummelt. Full forståelse! Min anbefaling er at dere begynner med å spille spillet selv før dere ser altfor mye på opplegget. På sikt skal lage tilrettelagte "spillstudieark" til 5-, 10-, og 15- timers opplegg.
Første undervisningsøkt 
Sjekk at spill er innstallert på alle maskiner før dere begynner. I VGS kan elevene gjøre dette hjemme. Forvent at elevene hjelper hverandre – det fikser de. Ikke kast bort verdifull undervisningstid!
Skal elevene spille individuellt eller i par?

Fordelen individuelt: Dypere "immersion" i historien
Fordelen med par: Elevene reflekterer til større grad over hva de opplever heller enn å rase gjennom spillet.
Jeg foretrakk på dette opplegget å ha elevene spille i par, men tror egenspilling også¨fungerer fint med dette spillet.
Første timen ga jeg elevene klare begrensninger for hvor de får bevege seg i spillet. Hold dere til de to første rommene (Porch og Foyer). Utforsk rommene, og gjennomfør følgende tre oppgaver:
Annotating The Foyer
As you explore the mansion's foyer, collect the information requested in the chart below. For each response, take a screenshot to show where you discovered the requested information.
1. The Foyer
Description
Response
Screenshot evidence
(Example)

Avatar's name

(Example)

Kaitlin Greenbriar

(Example)
Father's full name
Mother's full name
Sister´s full name
Family's prior address
Family's current address
Mom's college roommate
How long does it take mom to get to work?
Where does mom work?
2. Timeline
Combining evidence from both the porch and the foyer, fill in the appropriate date and corresponding screenshot in the spaces provided.
| | | |
| --- | --- | --- |
| Event | Exact Date | Screenshot Evidence |
| Katie leaves for Europe | | |
| Family moves to new house | | |
| Katie returns from Europe | | |
3. Sam
What item triggers Sam's journal entry entitled "At the New House"? Does this sort of voiceover affect the realism of the story?
Write 5 point-form notes discussing anything your know about Sam based on what you have discovered in the porch and in the foyer.
I klassene hvor jeg har brukt dette opplegget brukte elevene mine rundt 45 minutter på disse oppgavene. Hvis elevene får problemer med å ta skjermbilder fra spillet, kan det ta noe lenger tid, men her kan du regne med at du har eksperter i klassen. La de hjelpe hverandre. Jeg synes på generell basis når jeg gjennomfører spillknyttede opplegg at elevene selv bør håndtere det tekniske. Din tid bør brukes til å snakke med og veilede elevene om historien de opplever.
Når elevene er ferdig med oppgavene bør disse gås gjennom i plenum. Fokus: HVA vet du? HVORDAN vet du det? Basert på det du har opplevd, hva tror du denne historien handler om? Hva tror du vil skje? Hvorfor? Bruk gjerne endel tid på å diskutere historien. Gitt at ingen har utforsket områder de ikke skulle utforske enda, vil klassen kunne diskutere historie, karakterer og andre elementer ved narrativen med utgangspunkt i lik informasjon. Denne sjansen kommer ikke igjen før hele klassen har spilt spillet til endes.
LEKSE:
Writing
Consider the information you have discovered in the porch and foyer. Write a short text where you speculate about how the story will unfold (max. 300 words).
---
Ved starten av neste undervisningsøkt velger hver elev en oppgave hvor de får særlig ansvar for å undersøke bestemte aspekter ved narrativen. Oppgavene er laget slik at de dekker et spekter av tema som bør appellere til elever med ulike typer interesser. Jeg anbefaler at elevene får velge oppgave fritt:
Gone Home Topics to Track – START: November 20th +/-
As you explore the world of Gone Home, each player will be given a tracking assignment. Both notes and screenshots will be produced on your assigned topic as you make your way through the game.
Character Trackers
Each character tracking assignment includes one major (M) and two minor (m) characters. There are three character tracking assignments.
Terrance Greenbriar (M), Uncle Oscar (m), Dr. Richard Greenbriar (m)
Janice Greenbriar (M), Rick (m) and Katie (m)
Sam (M), Lonnie (m), Daniel (m)
Using the blank Character Tracking Sheet provided, create one for each character you are following and fill them in as you play. Consider the following as you track your characters:
a) Take substantial point-form notes on any important facts you discover about the character. You should have about 30 points for a major character (M) or 5 – 15 points for minor characters (m).
b) Collect as many screenshots relevant to the characters you can find. You may want to create sub-folder in your "Gone Home Screenshots" folder to deposit the screenshots relevant to each of the characters you track.
Key Question: How has the major character changed over the course of the story? Is s/he better off at the end of the game than they were at the beginning? How?
1995 Archeology
Gone Home takes place in 1995 and the developers went to great lengths to design the household to be as historically accurate as possible. As you explore the house, screenshot any items or environmental features the reinforce and lend credibility to the historical setting of the story.
Once you have completed the game, choose 10 artifacts that are historically accurate and help create the 1995 atmosphere. For each item, provide the following:
A screenshot of the item.
A description of the item
Where it was found, who owns it, etc.
2 – 5 sentences based on research that proves that the item in question is a legitimate artifact from 1995.
Key Questions: How did the historical setting of 1995 affect the game? How would the game have changed if it were to take place today?
Riot Grrrl Music
Music is an important component of Gone Home. Aside from the environmental music used to enhance the game, Sam's interest in the Riot Grrrl music scene opens a window to a unique musical movement from the 90's.
Before proceeding, read this Wikipedia article on Riot Grrrl: http://en.wikipedia.org/wiki/Riot_grrrl
Once you begin your exploration of the house, track and note the following:
Take screenshots of relevant tapes, posters, zines or any artifacts that relate to or reference this music scene.
Take 20 – 25 point form notes on how the Riot Grrrl scene enriches and adds to the story in general, as well as how it affects Sam in particular. Ideally, you will take notes any time you find a reference to this musical movement.
Create brief profiles on all the bands featured or mentioned in the game.
Key Questions: How did this style of music work well with both the geographic and historical context of the game? Why is this style of music a genuine expression of Sam's journey in the story?
Video Game References
In film and literature, it is common to reference or allude to other works of film or literature. Similarly, Gone Home subtly references other video games, particularly games that were influential in the creation of Gone Home.
As you play the game, undertake the following activities:
Take as many screenshots as possible of artifacts or visual references to video games and video game culture.
Take point-form notes on each artifact and how it connects to gaming culture or other games.
Research the genre of referenced games and discuss how they influenced the creation of Gone Home.
Research the concept of an Easter Egg and take notes on how games have used Easter Eggs in the past.
** Because many of the references are subtle or hidden as Easter Eggs, after you have played the game once, you should activate the developer's commentary in the options menu and explore the house a second time with commentary, as the developers often discuss many of the references to other video games.
Key Questions: Why do cultural texts like films, books and video games create references to other relevant cultural works? In what video game tradition does Gone Home participate? What is Gone Home's video game genre?
Vurdering
Elevene mine gjennomførte to oppgaver som var gjenstand for formell vurdering. En muntlig presentasjon knyttet til deres "topic to track" og en spillanmeldelse.
Muntlig presentasjon
Now that you have completed tracking your topic in the game, get together with those classmates who tracked the same topic. You will put together a 10/15 minute presentation on your topic. The presentation should give an overview of your topic and answer key questions. If you have a character tracking assignment, you should explore how your major character changed over the course of the narrative.
Review
Read NDLA's guide How to Write a Movie Review
Discuss with a partner which aspects of a movie review are relevant for a game review? Are there any aspects relevant to games that are not relevant to movies you should include?
Write a 400 word review.
Hand in on itslearning AND submit to an online review site (IGN, Steam, Metacritic etc.). Make sure you submit the URL to your online review as well.
Avsluttende (kjappe) betraktninger
Denne guiden trenger omfattende revisjoner! Inspirert av interesse fra deltakere på NKUL 2016 har jeg skrevet denne bloggposten i en hui og en hast etter å ha utsatt dette altfor lenge. Posten vil etterhvert bli oppdatert når jeg får tid og lyst med bilder, kompetansemål, språkvask og tilpassninger. Men om dere leser dette med velvillighet, og lar rødblyanten hvile kan dere få et rimelig godt inntrykk av hvordan et opplegg med Gone Home kan gjennomføres.
Lykke til!
BONUS!!
Diskusjonsoppgaver
Discussion Prompt #1: Was the relationship between Lonnie and Sam believable? What, if anything, about it seemed untrue of artificial?
Discussion Prompt #2: Why do you think the developers included Daniel in the story? What does he tell us about Sam?
Discussion Prompt #3: How do Terrance's novels relate to his relationship with Uncle Oscar?
Discussion Prompt #4: How do you feel about Janice's relationship with Rick? Was it morally objectionable? Understandable? Do you think it was physically consummated? Does it matter? Why or why not?
Discussion Prompt #5: There is some debate in the gaming world as to whether "Gone Home" is a game at all. Do you feel it's a game? Why or why not? If it's not a game, what is it?
Discussion Prompt #6: Did you like how the game ended? Were you surprised? Disappointed?

Discussion Prompt #7: "Gone Home" has been praised and criticized for its portrayal of a gay teen coming out in the US in the 90's. Do you feel it added to the game? Do you think the treatment of this subject felt realistic? Do you feel including this topic in a game should be seen as "exceptional" or "notable"? How did you feel about her parents' reaction to her coming out?